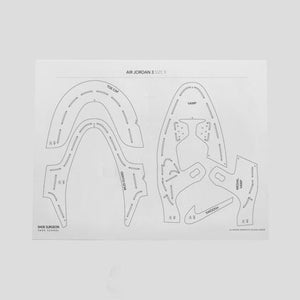 Air Jordan 3 Pattern
Presenting the official Shoe Surgeon Air Jordan 3 pattern.
We've spent countless hours to create the perfect pattern for this classic silhouette. Each packet contains a pattern which can be used to create up to two sizes. (For example, the 8-8.5 can be used to create an  8 & 8.5!) Use this uniquely designed pattern to save time and create your custom Air Jordan 3!
Recommended for intermediate shoe makers. We highly suggest taking one of our Shoe Surgeon classes to learn to utilize these patterns and learn the fundamental skills for shoemaking that can be applied to almost every silhouette! 
*No refunds or exchanges. All sales final.
More silhouettes coming soon!